Phonostalgia presents...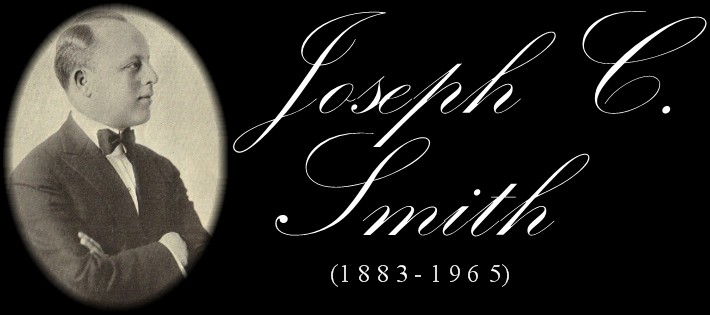 America's First Famous Dance Band Recording Artist
By Ryan Barna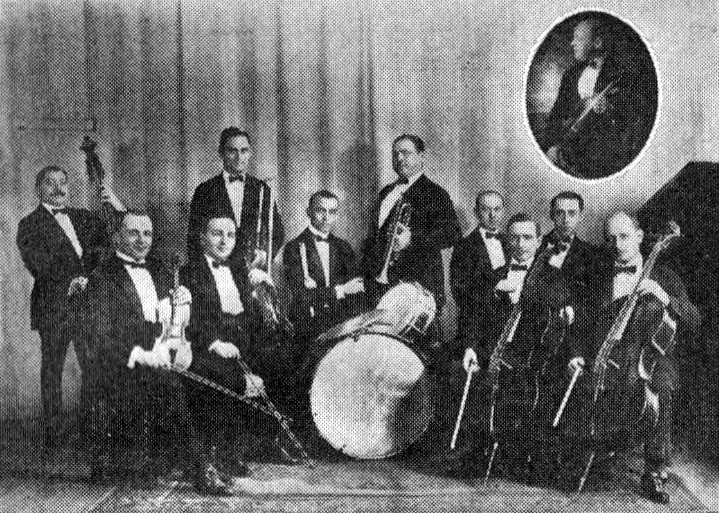 Joseph C. Smith's orchestra, ca. 1923. Ryan Barna Collection.
An honorary member of Associated Musicians of Greater New York, and a skilled violinist, Joseph C. Smith might have been the first musician in the United States to become famous as a dance band leader on records. His travels included the United States, Canada, and Europe, where his orchestra was once regarded as a favorite of the Prince of Wales during the 1920s. Smith's records likely outsold all other dance ensembles during the First World War, and he remained the most popular dance band director for the Victor Talking Machine Company into 1920.
Prior to his first release in 1916, dance records were primarily played by military bands, instrumental soloists, studio orchestras, or dance bands with masters imported from other countries. He was not the first person to independently direct a dance orchestra in the recording studios in the United States (James Reese Europe might have been the first, in 1913), however, his style would help set a new standard in the way dance music would be recorded. The orchestra was much smaller, with the melody played on violins rather than being dominated by brass. By 1919, the use of military bands for dance recording had gradually phased out, and Smith helped pave the way for newer, lighter sounding bands.
As famous as he once was, his personal story has been a complete mystery for several years. Who was this "Joseph C. Smith," whose name is so familiar to record collectors?
| | |
| --- | --- |
| Ryan Barna Collection | Joseph Cyrus Smith was born August 13, 1883 in Sag Harbor, New York. Even his date of birth is suspicious, since the 1900 census cites October of 1881 as his birth date, and that he used the August 13th date in filling out his own birth certificate (with a signed affidavit) in 1921. Since Smith used August 13, 1883 on several documents after 1921, we have used 1883 as the birth year on the heading. His father, George Smith, was an estate property salesman from Russia. His mother, Fanny (or Fannie) Davis, was from Austria. According to the 1900 census, when Smith would have been 16 years old, he was already employed as a musician in New York City. |
The March 1918 Columbia supplement stated that he was "an important factor in Metropolitan dancing circles" for fifteen years, making this about 1903 when he started becoming recognized as a dance musician. Another online author claimed he was a music arranger in Broadway shows from 1902 to 1913, but further research suggests that this was the dancer and choreographer who went by the same name. Most of the programs credit this "Joseph C. Smith" as arranging and staging the dances and musical numbers. This is not the musician and bandleader, as this biography covers.
Our Smith would eventually organize his own orchestra, and in 1914, began playing at the famous Plaza Hotel in New York City (according to a March 1923 Brunswick supplement). His orchestra would remain a regular feature at the Plaza for the next nine years.
| | |
| --- | --- |
| His first recording session was for the Victor Talking Machine Company, on September 25, 1916. His first release, "Songs of the Night" (Victor 35593), was released in December of that year, on a twelve-inch disc. His first records from 1916 to 1917 only had modest sales, but he would score major hits in 1918, most notably with "My Sweetie," "Missouri Waltz," "I'm Always Chasing Rainbows," "Smiles," and "Mary." Although other early jazz ensembles did not seem to have posed a threat to his popularity at first, such as the Original Dixieland "Jass" Band and Wilbur C. Sweatman's Original Jazz Band, it was the later band leaders like Paul Whiteman and Roy Bargy who would put Smith out of the spotlight. By 1921, their dance orchestras were adding more variety to their arrangements by using more instrumental soloists. This was a characteristic that Smith's arrangements had lacked. In comparison with these new sounds, Smith's style usually had long, monotonous instrumental passages repeated, with a sound that seemed rather outdated at this time. | Ryan Barna Collection |
Although Smith tried to update his style slightly, his popularity as a recording artist had diminished when he made his last Victor recordings in 1922. After a brief, unsuccessful period with Brunswick Records, he left the Plaza Hotel in 1923 and moved to Montreal, Canada, where he directed his orchestra at the Mount Royal Hotel. He made his last known recordings in 1925 for His Master's Voice, and frequently broadcasted on radio station CKAC, in Montreal. Between 1925 and 1929, Smith alternated between Canada, Europe, California, and New York, playing at various concerts and ballrooms. Throughout the 1930s, he directed music at various New York City night clubs and restaurants, most notably the Restaurant Larue at 45 East 58th Street, where his band was frequently advertised in the late 30s. He retired in 1945 and moved to Florida, where he died March 22, 1965 at St. Francis Hospital in Miami Beach. The cause on his death certificate was given as a myocardial infarction, due to generalized arteriosclerosis contributed from a gastric ulcer. His widow, Margaret Lynch, was said to be his only survivor. She died seven months later, of Bronchopneumonia.
| | |
| --- | --- |
| Ryan Barna Collection | Since all of his associates have probably passed away, and no direct descendants survived him, large gaps in his life still remain. What influenced his musical abilities? Where was he educated? What influenced him to go into dance music? Where did he play before he settled at the Plaza Hotel in 1914? Why did the Victor Talking Machine Company chose him when there were plenty of other dance orchestras in New York to chose from? What were his views on jazz, and why did he stick to his regular straightforward dance music instead of converting to jazz? These are questions we hope could be answered in the future, but for now, we hope you enjoy these pages we have put together. |
As always, if you have any further information, or would like to comment on anything in the text, or on the site, please feel free to email us. Your help is needed for clearing any misconceptions, and in reconstructing the life of this important, yet mysterious band leader. We would appreciate hearing from you.
NOTE: Joseph C. Smith is not to be confused with the dancer/choreographer; the music store owner in La Porte, Indiana; or the director of the Martha Lee Club Orchestra.
SMITH RESOURCES:
ARTICLES, DOCUMENTS, and MEMORABILIA

© 2008-2010 Phonostalgia